I want to talk about online dating, and of course, how my "disability" played a role in it. You've all heard about online dating. You know, the strange, dark and sometimes cruel place where just about 50 MILLION Americans have used to try to find "the one". Okay, maybe not everyone is there to find "the one," but I'm certain you or someone you know has downloaded it, swiped left or right a few hundred times, and have probably since deleted. Online dating used to sound like a dreadful way of meeting new people; however, the 20-teens are here and we're so ready for it!
I've spent more time creating the perfect profile than I'd like to admit. Personally, the "short bio" always got me. As an adult who graduated college almost a decade ago, I found myself searching for hobbies I thought people would find interesting. Napping and eating tacos are hardly date-able qualities, so I had to dig deep. Do I mention that I model? No, no, no. That would be too cheesy. Ok, here it goes:
"Hi, my name is Rebekah. I like long naps and I get 50% off manicures."
HOW. AM. I. MARRIED?!
So I bet you're all wondering how I handled this whole "disability" thing on my dating profile. You know, my arm. OK, let's backtrack here. If you've just stumbled upon my page and have absolutely no clue who I am, long story short, I was born without a right forearm. No, I'm not a real-life robot. I am very much a real human being with real feelings and very real insecurities.
The first time I signed up on a dating website, I debated for hours if I should include my limb difference in my profile. I mean, is it really that big of a deal if I don't show it online? Shouldn't they just accept me for who I am when they meet me in person?
No. The answer is no.
Sounds horrible, I know. But let's honest for a minute. People are typically online dating for one of two reasons:
1. Convenience
2. Convenience
Get it? Got it? Great. The concept of swiping left or right on a person is basically an easy way of bypassing the "getting to know you for your personality" part of dating in real life. Yes, you're being judged from every aspect of your profile. Welcome to online dating. But, I can say from experience, I enjoy that factor probably just as much as the person on the receiving end.
The first profile I made didn't include anything about my limb difference. Nothing remotely even hinted at the fact I was different. I was terrified I wouldn't match with anyone, to be honest. Who would want me? I know you're nodding as you read this, because we've all been there. With or without a limb difference, we're all insecure about something, and online dating is the perfect place to hide your flaws and present the best possible version of yourself.
I remember my first date from meeting someone online. He had no clue that I had this limb difference. Wait, does that make me a Catfish? Let's revisit:
CATFISH
noun cat·fish \ -ˌfish \
: a person who sets up a false personal profile on a social networking site for fraudulent or deceptive purposes.
Crap.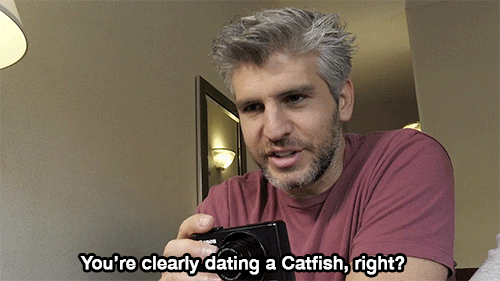 Well, let's just say that first date didn't go as well as I had hoped. If we're going to be honest here, and this is a pretty honest space, not everyone is going to want to date someone with a disability. Harsh, but true. And THAT'S OKAY! Why? Because I've realized not everyone is meant for me. People have different tastes, different deal breakers and different interests. Sometimes, I simply don't fit the bill for that person, and yes, that's okay.
I believe in transparency. Why? Well, it's made online dating a hell of a lot easier, for one. Yes, I plastered my online profile with pics with (and without) my bionic arm, I talked about it in my profile, and I made light of it, too (double high five!).
There's something to say about being honest not only with the people you're potentially meeting online, but being honest with yourself.
What I've noticed is that my ability to present my vulnerabilities to the world has ultimately separated myself from literally millions of people dating online. People, believe it or not, found my limb difference more interesting and were eager to learn more about me. In fact, one of the first conversations I had with my now-husband was about my involvement with speaking and the Lucky Fin Project. Jared, being a medical student, found this so intriguing, and wanted to learn more about the non-profit I'm involved in.
Less than two years after Jared and I matched online, we were married. I'd like to think my transparency online helped weed out those who had no interest in dating someone with a limb difference, and directed me to the perfect man for me. If there's anything to take away from this, it's that being honest with yourself is the single most important thing when considering online dating.
Happy swiping!
#bumble #onlinedating #matchcom #tinder #marriage #disability #limbdifference